End Mill Neck, Flat and Cut Off Package
Description
Tradesman Machinist Complete with T-ER-32 Neck Grinding Attachment, V-Block Tool Rest, and your choice of grinding wheels (neck, cut off, Weldon flat)
• Grind Neck Diameter Reductions, T-slot cutters
• Grind Weldon set screw flats
• Cut off carbide
• Grind corner rads (option)
• Grind corner chamfer (option)
• Powerful torque compensating DC Variable speed drive
• Plugs into any AC outlet
read more
Description
Tradesman Machinist End Mill Workstation
Neck relief / tool shank diameter reduction

Weldon set screw flats

Carbide cut off

This package includes your choice of grinding wheel (choose from drop down menu above)
Grind Weldon Set Screw Flats
Use the V-Block and our Sharp Diamond Plated Chamfer Wheels to grind Weldon set screw flats quickly into carbide cutting tools. The ER32 Tool Holder can be used with a chamfer wheel to grind flats as well. Choose from 1/4″, 3/8″, or 1/2″ wide flats. Click here to see some a technical information on flat widths.
Neck Diameter Relief Grind of Carbide Tools
Neck reduction: This often needed grind is quick and easy with the Tradesman Machinist T-ER32 Neck Grinding Attachment and one of our diamond plated Shoulder Wheels.  This same set up is perfect for creating your own T-cutter out of a standard end mill with our CBN Shoulder Wheels.
Additional Grinding Wheels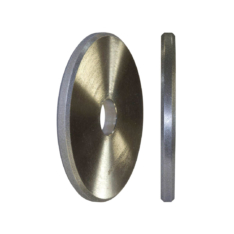 Weldon Set Screw Flat Grinding Wheel – Diamond for Carbide
4", 5", 6" Machinist / Specialty $ 145 – $ 165 (USD) Choose Options
Additional Accessories and Upgrades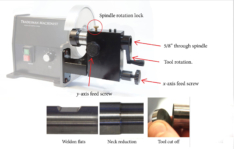 Upgrade Package to Indexing ER32 Tool Holder
Corner Radius $ 60 (USD) + Add to cart
Step Drill and Countersink Grinding Attachment for Tradesman T-SDCS
Countersinks $ 1,385 (USD) + Add to cart
Precision Shaft for Corner Radius
Corner Radius $ 200 (USD) + Add to cart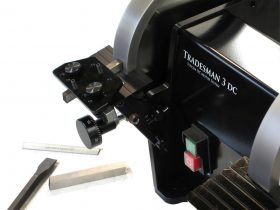 Mitre Rest Jig Plate with y-Axis Micro Feed
End Mill / Tool Grinding Accessories $ 118 (USD) + Add to cart
You may also like
Shank, Flat and Cut Off Fixture
Carbide Cut Off $ 646 (USD) + Add to cart
ER32 Motor Spindle for Shank Grinding, Shank Reduction / Cut Off
Carbide Cut Off $ 1,485 (USD) + Add to cart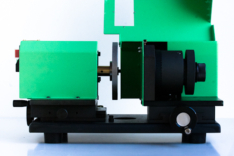 Cut Off and Neck Machine GS-13N
Carbide Cut Off $ 1,735 (USD) + Add to cart
Additional information
Weight

16 kg

Dimensions

31 × 31 × 50 cm
Reviews (0)
There are no reviews yet.