CUTTERMASTER Professional Advanced Tool Maker CM-01P
Description
Ultimate End Mill / Tool Grinder - Grind anything
•Grind End Mill Flutes, Ends, Rads, End Gash
•Ball Nose, Bull Nose with standard Toycen Radius Air Spindle (patented)
•Carbide Cut off, Weldon Set Screw Flats, Neck Reduction
•End Mills up to 2" diameter, Quick and Easy Ends
•Grind Inside Flutes (Hoggers and Large Taps)
•Sharpen Reamers and Countersinks
•Bare machine includes collets and aluminum oxide wheel only
•Designed to keep the Machine tables free from grinding sparks and dust
•Infinitely Variable DC Whisper Drive with Torque Compensation
•And you can hear yourself think (or that .010 Radius you're grinding)
read more
Description
Shown with CM-DRO Digital Read Out, not included
CUTTERMASTER Professional CM-01P
COOL. QUIET. POWERFUL. 
The latest addition to North American Made CUTTERMASTER Professional Tool Grinder line up is unlike anything on the market.
The patented Torque Compensating Twin Spindle DC Drive makes for fast set up and eliminates tool burning.  Easily grind ends and flutes of end mills as well as countersinks, reamers, annular cutters, side and face cutters, Grind Weldon flat, step drills, create T cutters from regular end mills.
The z-axis motor tower allows the operator to easily grind the end gash in end mills as well as grind the flutes of hoggers and taps – operations that are usually much more complex on other grinders.
The Patented Toycen Radius Air has a unique Tapered Step  Air spindle Bushing which can be replaced if needed after years of service (unlike any other or CUTTERMASTER tool grinders) Instead of having to replace the whole spindle assembly.
This item is the bare machine, meaning it comes complete with our collet set and only one aluminum oxide wheel.
Packing list:
Cuttermaster Universal Base,
Toycen MK2 Radius Air Spindle,
Toycen Variable Speed, Reversing Infinite Twin DC Motor Tower and Control,
7 Piece 5C Collet Set,
Center Finder for Radius Grinding,
Maintenance Tool Set,
Operators Manual, Book on End Mills.
If you require grinding wheels we recommend one or two of our CBN (for high speed steel tools) and diamond (for carbide) cup wheels, and a CBN or diamond face wheel. Or choose one of our Production Support Packages which is a great deal on cup wheels, wheel truing device, and/or countersink and step drill cams and a plated face wheel
Grinding Wheel and Production Support Packages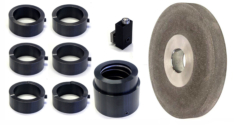 Countersinks, Step Drills and Taps – Production Support Package CM-PS2
4", 5", 6" Machinist / Specialty $ 555 – $ 595 (USD) Choose Options
Popular Accessories
Countersink / Step Drill Sharpening Cam Set
Countersinks $ 325 – $ 445 (USD) Choose Options
CM-01P TOOL AND CUTTER GRINDER SPECIFICATIONS

| | |
| --- | --- |
| Air Bore/ Fit / Straight | 1.875 Dia ,.0004 Total Clearance .0001 Straight 12 in. |
| Air Bearing Stroke Over Table | 8″ (248.92) |
| Cutting Tool Capacity | 2″ shank, 9.8″ O.D. |
| Flute Length | 8.5″ |
| T-Slot Dimension | 0.8″ (20.32mm) x 0.5″ (12.7mm) x 0.67″ (17.018mm) |
| Table Feed Gradations | 0.001″ (0.02mm) |
| X-Axis Table Travel | 6″ (152.4mm) |
| Y-Axis Table Travel | 3″ (76.2mm) + sildes back & forth 6″ (152.4mm) |
| X-Axis Table Working Space | 16.5″ (419.1mm) x 5.5″ (139.7mm) |
| Y-Axis Table Working space | 13″ (330.2) x 5.5″ (139.7) |
| Z -Axis Tower  Twin Spindle DC Motor | 8 inches Vertical Travel Infinate Positioning |
| Motor Tilt  Tower  infinate |   Infinate Rotation |
| Motor, DC Drive 110v 60 HZor 220v 50 HZ | Twin Spindle 400 watt 130V DC 400 to 4000 RPM |
| Net Weight | 188lbs (82Kg) |
| Gross Weight | 232lb (106Kg) |
| Machine Dimensions excluding handles | 21″ x 20″ x 21″ |
| Shipping Dimensions | 30″ x 28″ x 29″ |
The Patented Multi-Axis, Torque Compensating DC Motor Head with whisper drive helps to eliminate tool burning (and you can hear what you're doing).
Easy to use.  Fewer parts to manage
Designed by Jeff Toycen and Michael Colton.
Take Control of Your Tools. Toycen is North America's leading innovator in shop floor, cutting tool grinding equipment.

Request a Quote or Call us at 1 (800) 417-2171
$7,745.00 USD. In stock
CUTTERMASTER Professional Training Videos
Shipping
On online orders to Canada and the contiguous USA, we split the freight with you. Customs and duties included, this grinder ships for a flat rate of $200 USD (transit time 5-7 business days).
Additional information
Weight

90 kg

Dimensions

80 × 80 × 80 cm
Reviews (2)