End Mill Ends, Flutes and Rads – Support Package CM-PS1
Description
Recommended wheel kit for end mills
Two  resin bond cup wheels: CBN for HSS and diamond for carbide
Braked wheel truing device
4-1/8" (115mm) or 5" (125mm) diameter
1-1/4" arbor
read more
Description
CM-PS1 Cuttermasters Production Support Package
The Cuttermasters Production Support Package, CM-PS1 is a package deal on two  resin bond cup wheels, and our Spindle Mounted Braked Wheel Truer/ Dresser. All of our tool grinders come with collets and an aluminum oxide grinding wheel so that they are ready to grind ends and flutes out-of-the-box. The wheel kit gets you going with our recommended resin bond wheels. Standard is one CBN for high-speed steel and one diamond for carbide.
Compatible with all of our traditional tool grinders and similar, with a 1.25″ hub,  including the MG-30, HDT-30, CM-01 and more .
Other Grinding Wheel Packages: Countersinks and Easy End Mill Ends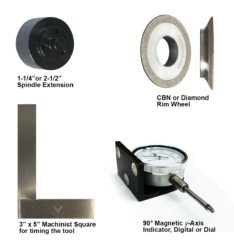 Easy Ends Kit for End Mill Ends – Support Package, CM-PS3
4", 5", 6" Machinist / Specialty $ 498 – $ 613 (USD) Choose Options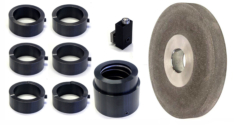 Countersinks, Step Drills and Taps – Production Support Package CM-PS2
4", 5", 6" Machinist / Specialty $ 555 – $ 595 (USD) Choose Options
Additional information
Reviews (0)
There are no reviews yet.