Powerful DC Motor
Super quiet and five times more powerful than an AC motor. Low speed keeps the heat and dust to a minimum. CBN or diamond Precision Plated Super Abrasive wheels never lose their shape.
Tool Modifications In House
Configured to make quick work out of shaping and sharpening your tools. Grind anything, Teflon to carbide
Several Configurations
Easily configurable to accept Tormek and Wolverine jigs, belt sanders and buffing wheels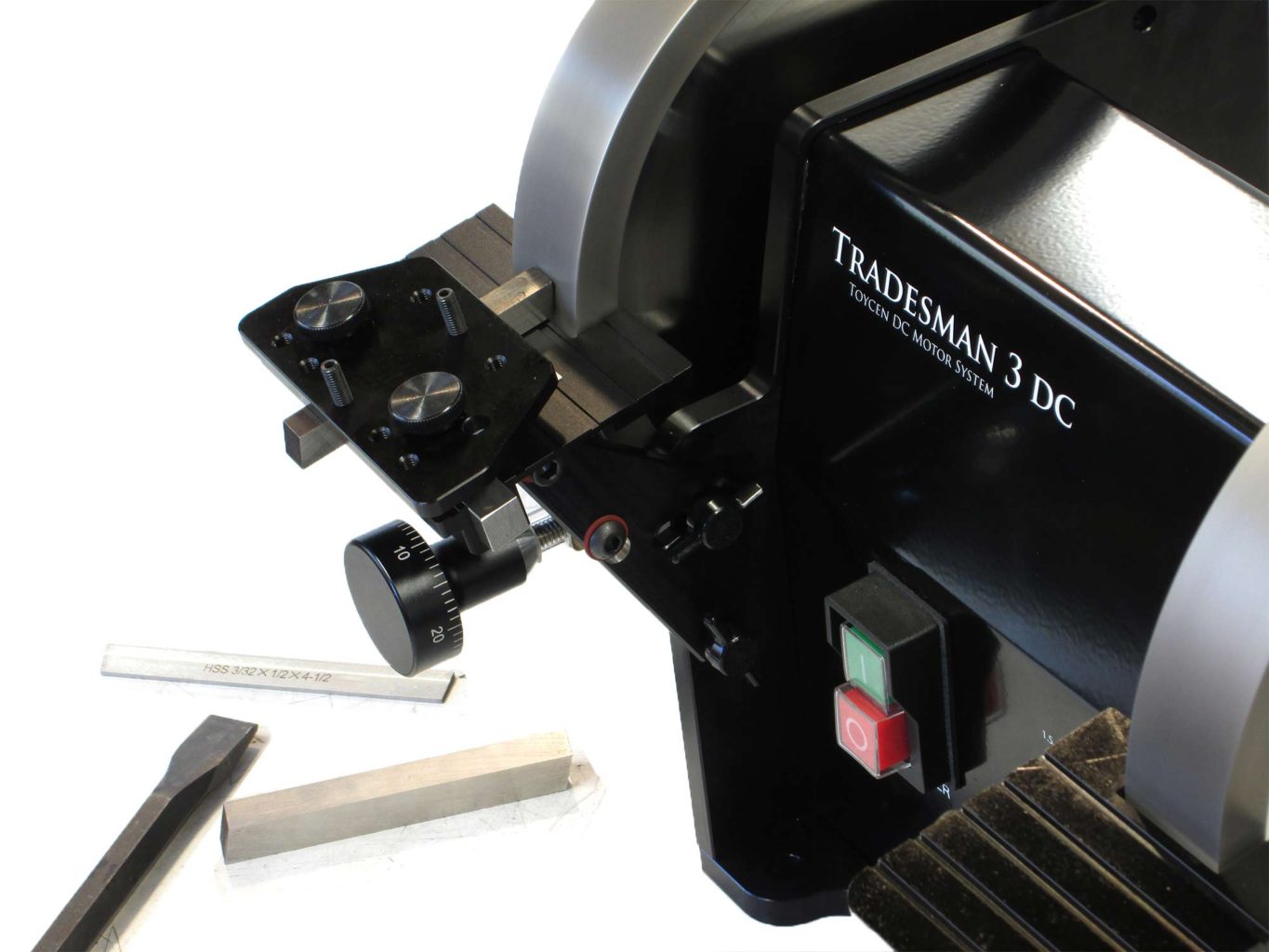 Why The Tradesman DC Variable Speed Bench Grinder?
DC Motor – the DC motor is 5 times as powerful as an AC motor and provides high torque, quiet and cool grinding
Super Abrasive Wheels – CBN or diamond precision plated wheels never loose their shape
In-house Tool Modifications – Cut out down time and take control of your shop
No Burnt Tools – Our patented DC motor grinder will not burn tools and lower tool life
High Torque – 400-4000 RPM
Chisel and Tool Station – Frictionless cross slide, microfeed and lock
Proudly Made in North America – built by machinists in Canada and the US using quality parts and practices you can trust
Several Configurations Available – several add-ons and customizations available based on the needs of your shop
The Story of the Tradesman DC Variable Speed Grinder
The Tradesman is hand-built in small runs in North America by the engineers who designed it. Cuttermasters is a small American and Canadian company specializing in all things tool grinding. The Whisper Drive, ultra-quiet DC Motor is manufactured in North America, as is the minimalist and rugged, aluminum and steel chassis. Give us a call. Buy a Tradesman from a company who designed it and built it.
Machinists — Sharpen countersinks, drills, reduce end mill shanks, lathe tools, Inserts, Sharpen Reamers
Fabricators — Grind anything: plastic, leather, glass, steel, carbide without wheel load-up or glazing.
(US Patent 9,089,946 July 28 2015) Toycen – All Rights Reserved
Cuttermasters' precision plated cutter wheels — no danger, no dust, no dressing, just a good finish every time
Grind Weldon flats (set screw flat on carbide end mill shank), neck reductions, sharpen drills and countersinks.
The patented DC motor grinding system, 400 – 4000 rpm, allows you to remove material (any material) without generating excessive heat, eliminating tool burning.
Visit our new Tradesman Site for more information on the Tradesman and its other industrial uses.
Technical Specifications
| | | | | | | | |
| --- | --- | --- | --- | --- | --- | --- | --- |
| Machine Dimensions | W 12″ x W 11.5″ x D 11″ | Shipping dimensions | 12″ x 12″ x 24″ | Machine Weight not including wheels | Net: 35 lbs, Gross: 40 lbs | Motor | 500 Watt DC Variable, with Toycen DC Drive |