Single Shaft Tradesman Machinist Workstation
Description
Tradesman Machinist DC Variable Speed Grinder
• Single shaft
• End Mill Corner Radius / Chamfer (option)
• Reversing (option)
• Powerful Torque Compensating Whisper Drive DC Motor and Control
• 5/8" shaft and 1-1/4" tool grinder wheel hubs included
• Plugs in to any AC outlet
• 600-5000 RPM
read more
Description
Tradesman Machinist End Mill Workstation
Choose your Tradesman Machinist base from the drop down menu above. Corner rads require motor shafts spec'd for greater precision so choose Radius instead of Standard from the drop down menu if you intend to use the profile radius wheels. Choose Reversing from the menu to add a three-position reverse switch to the grinder – especially useful if you're adding a belt sander.
Scroll down to add accessories, attachments and grinding wheels to your order.
Single wheeled versus two-wheeled – The simplicity of the single-wheeled Tradesman Machinist is a great choice if you're using it for a few end mill operations, including necks, flats, rads and cut off. All these operations can be carried out on one side of the machine and changing set ups only requires changing grinding wheels (which is easy with only one screw securing the wheel cap).
Choose the dual-wheeled Tradesman Machinist if you want to set up on the other side for lathe tools, countersinks, general purpose HSS grinding or belt sanding (2″ and 4″ belt sanders can be mounted to either side as well). Another example is V-Block for flats on one side and ER32 Tool Holder on the other for necks and cut off.
The single-wheeled Tradesman has the wheel at the operators right hand. The V-block can be mounted on the left or right hand side and T-ER32 Tool Holder can be purchased as left or right hand (left-hand is mounted on the operators left side and right-hand, on the right).
Operations, Attachments and Grinding Wheels
Weldon Set Screw Flats
The tool you need for a job may not have an important feature: the set screw flat. Quickly add a perfect Weldon set screw flat using the V Block Attachment (Click here for a YouTube video) or the T-ER32i Tool Holder and one of our chamfer wheels (they come in different widths: 1/4″, 3/8″ and 1/2″).
Wheels and Accessories for Weldon Set Screw Flats
Carbide Cut Off
Cut off your carbide tools with our Diamond Resin Bond Cut Off Wheel or our Diamond Plated Cut Off Wheel. The resin bond wheel will cut more tools while the plated wheel will cut faster. This operation can be done with the V-Block instead of the T-ER-32 Neck Attachement but the attachment offers stability and tool rotation for a quicker and cooler cutting cycle. Click here for a YouTube video.
Wheels and Accessories for Carbide Cut Off
Neck Reduction and T-Cutter Creation
Neck reduction: This often needed grind is quick and easy with the Tradesman Machinist T-ER32i Neck Grinding Attachment and one of our diamond plated Shoulder Wheels.  This same set up is perfect for creating your own T-cutter out of a standard end mill with our CBN Shoulder Wheels.
Wheels and Accessories for Neck Reduction
Radius Grinding
Grind rads quickly and easily with our Profiled Radius Wheels. Grind .02″, .03″, .04″, .06″, .09″ and .12″ corner rads.  Our T-ER-32i Neck Grinding Attachment indexes to flute positions for 2, 3, 4, 6 and 8 flute end mills and allows you to plunge grind a radius (YouTube video).
The Tradesman Machinist is probably the highest accuracy grinder in its class. Still, the precision required to achieve a good corner radius demands that the motor tolerances are tighter than usual so a motor with this additional accuracy is required at the time of purchase if intended for corner rads.
Wheels and Accessories for Corner Radius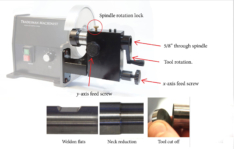 Spinning Neck Relief and Cut Off Fixture, ER32
Tool Grinding Accessories $ 685 – $ 745 (USD) Choose Options
Corner Radius / Corner Prep, Dual Profiled Radius, Diamond
Grinding Wheels $ 185 (USD) Choose Options
Corner Radius File, Diamond
Cuttermaster Professional Accessories $ 140 (USD) + Add to cart
Tradesman Belt Sander
Belt Sanding Attachment for Tradesman Grinders
Tool Grinding Accessories $ 229 – $ 479 (USD) Choose Options
Shipping Dimensions
Weight

16 kg

Shipping Dimensions

31 × 31 × 50 cm
Reviews (0)
There are no reviews yet.