Tradesman Machinist Belt 48″, T6B48
Description
• The Tradesman Machinist 6" DC Variable Speed Bench Grinder complete with • TMB36 Tradesman 2" x 48" Belt Sanding Attachment • Three piece belt kit: 120, 220, 320 grit belts • Standard Tool Rests • your choice of 6" plated grinding wheel • Plugs in to any AC outlet
read more
Description
The Tradesman Machinist 6″ DC Variable Speed Bench Grinder complete with 2″ x 48″ Belt Sanding Attachment,  your choice of 6″ plated grinding wheel, and standard tool rests.
Why the Tradesman Grinder?
DC Motor – the DC motor is 5 times as powerful as an AC motor and provides high torque, quiet and cool grinding
Super Abrasive Wheels – CBN or diamond precision plated wheels never loose their shape
In-house Tool Modifications – Cut out down time and take control of your shop
No Burnt Tools – Our patented DC motor grinder will not burn tools and lower tool life
High Torque – 400-4000 RPM
Proudly Made in North America – built by machinists in Canada and the US using quality parts and practices you can trust
Several Configurations Available – several add-ons and customizations available based on the needs of your shop
Common Accessories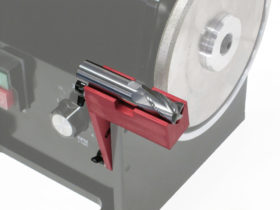 V-Block Tool Rest for Flats and Cut Off
Tool Grinding Accessories $ 285 (USD) + Add to cart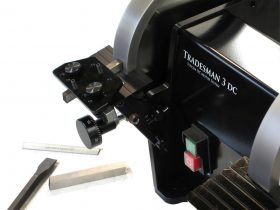 Mitre Rest Jig Plate with y-Axis Micro Feed
Tool Grinding Accessories $ 118 (USD) + Add to cart
Reviews (0)
There are no reviews yet.
Shipping Dimensions