Unibit Grinding Attachment for Tradesman, T-Unibit
Description
Sharpen unibits
Tradesman Grinder and Unibit wheel not included, fence only
read more
NEW
Description
This attachment allows for quick sharpening of unibits (step drill bits) using the Tradesman Machinist DC variable speed bench grinder and unibit wheel. A fence allows for controlled travel past the wheel, each pass taking a few thousandths of material.
It requires the Tradesman grinder to be set up to receive the fence, which we'd like to do here.
The grinding wheels used for sharpening unibits on the Tradesman are available in CBN and diamond for HSS and carbide tools.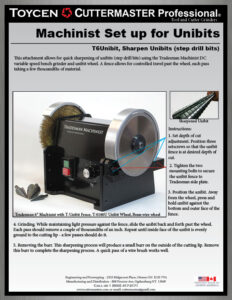 Shipping Dimensions
Weight

1 kg

Shipping Dimensions

25 × 25 × 5 cm
Reviews (0)
There are no reviews yet.