Tool Grinder Hub1/2″ i.d. to 1-1/4″ o.d.
Description
Tool Grinder Hub for CUTTERMASTER-style Grinders
• 1.25" outside diamter
• 1/2" inside bore
• 1/2" long shaft to accommodate a wide range of grinding wheel thicknesses
• #10 mounting screws included
read more
Description
Tool grinder hub with 1/2" inside bore, 1.25" outside diameter for tool grinder wheels. Use on the, Cuttermaster and Journeyman Professional Tool Grinders. Use on any grinder with a 1/2″ shaft.  Hub shaft length is 1/2″. Three mounting holes are #10. Screws included.
Wheel Caps
Additional information
Weight

1 kg

Dimensions

15 × 15 × 6 cm
Reviews (0)
There are no reviews yet.
You may also like…
Mitre Rest Jig Plate
End Mill / Tool Grinding Accessories $ 65 (USD) Choose Options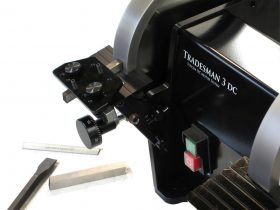 Mitre Rest Jig Plate with y-Axis Micro Feed
End Mill / Tool Grinding Accessories $ 118 (USD) + Add to cart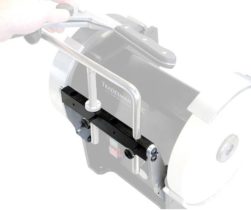 Tormek Bracket
End Mill / Tool Grinding Accessories $ 135 (USD) + Add to cart