Countersink Sharpening Cam Follower and Cam Tensioner
Description
Cam Follower and Cam Tensioner for Sharpening Countersinks on the CUTTERMASTER and CUTTERMASTER Professional
Cams sold separately
read more
Description
To sharpen countersinks on the CUTTERMASTER or CUTTERMASTER Professional you need a countersink cam as well as this cam follower and cam tensioner.
Cams can be purchased individually and require the follower and tensioner to be used properly on the grinder.
Other CUTTERMASTER Countersink Sharpening Products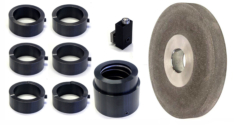 Production Support Package for Countersinks, Step Drills and Taps
4", 5", 6" Machinist / Specialty $ 555 – $ 595 (USD) Choose Options
Countersink Sharpening Cams (individually)
Countersinks $ 45 (USD) Choose Options
Sharpen Countersinks on CUTTERMASTER
Additional information
Reviews (0)
There are no reviews yet.
Related Products