Corner Radius File, Diamond
Description
Corner Radius File
.03" and .06" profiled rads Diamond plated Increase tool life
read more
Description
Edge preparation. Newly sharpened carbide end mill ends have a sharp corner that is susceptible to failure: chipping or breaking off. This diamond plated radius file allows you to grind a .03″ or .06″ radius on to your tool by hand in seconds, strengthening the corner and improving the life time of your carbide tool.
Get a Quote
Toll Free (800) 417-2171
[contact-form-7 404 "Not Found"]
Reviews (0)
There are no reviews yet.
Related Products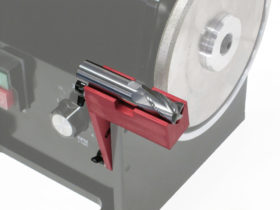 V-Block Tool Rest for Flats and Cut Off
Carbide Cut Off $ 285 (USD) + Add to cart